I am so excited to be done with the kid's Christmas gifts!
Today I decided to mark another thing off my Christmas to do list...
This year I decided to keep it a little simple since we did a "serious" funny card. I picked the family name card for our "Mustache themed Christmas". The cover is simple with our monogram and last name.
There are a ton of cards to choose from. There are layouts that will hold anywhere from one to twelve photos. I really like that several of the cards give me the option to put photos on the inside as well. I added our "bloopers" from our photo shoot to the inside. When designing your card, you have access to change all your fonts and colors as well.
Shutterfly has all kinds of photo products for the picture lovers in your family!
These photo mugs would make great Christmas gifts!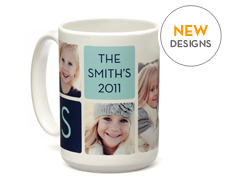 Sissy's birthday is in December so I started looking around at the photo invitations while I was there. Since Sissy is going to be 12, it gets really hard to find things that are not to childish for her taste. Here are a few of my favorite photo invites for teen girls.
I cant wait to figure out what I am going to do for her this year!
I cant wait to get our cards in this year! Have you ordered yours yet?
I was given a promo code for 25 free cards to post an honest review of Shutterfly. All opinions are my own and yours may differ.