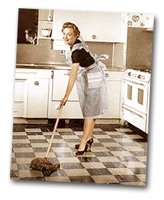 Here are the recipes to some of my house cleaners. If you want a cleaner to smell great too, go to your local hobby store or health food store and check out the essential oils. A few drops in a large spray bottle with your cleaner goes a long way!
Glass Cleaner:
2 cups of water
½ cup white (clear) or cider vinegar
¼ cup rubbing alcohol (the 70% concentration type)
Mix these ingredients and store in a spray bottle. Spray on paper towel or a cloth first and then wipe glass/mirror.
All purpose cleaner and deodorizer:
4
Tbsp baking soda
1 Quart warm water
Pour this on a clean sponge and wipe. It's really good for inside the
Refrigerator, your appliances and your kitchen counters.
Scrub:
½ of a lemon
½ cup borax*
Dip lemon into borax and scrub the area you want to clean then rinse.
(not safe to use on marble or granite surfaces).
Sink Scrub:
Sprinkle salt and baking soda in sink and scrub with an old wet rag. The salt and baking soda become like a paste and it works great! Run a bit of white vinegar over it and down the drain to clean and freshen. Rinse